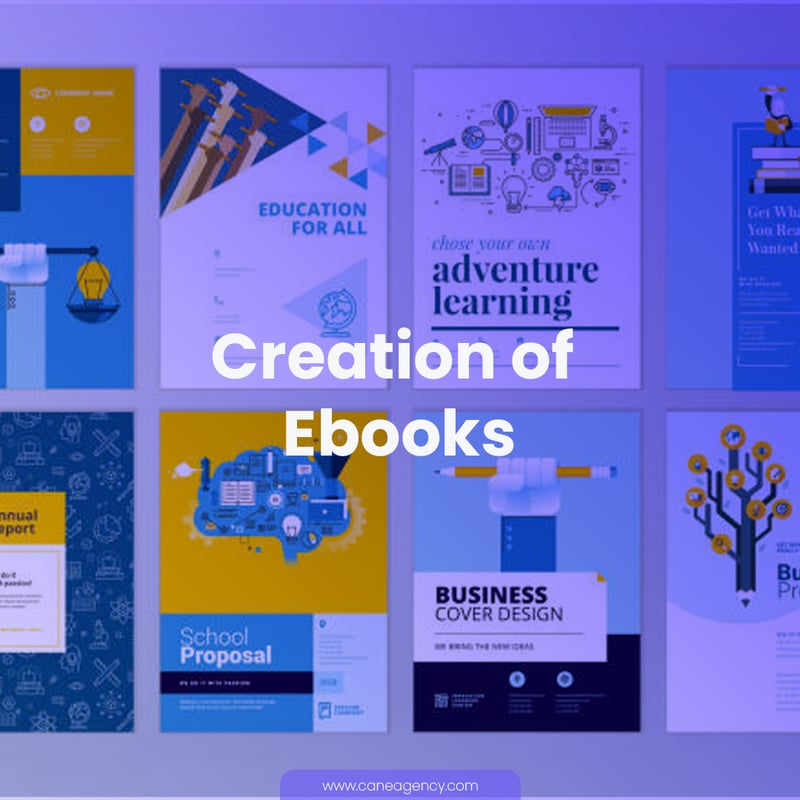 Creation of ebooks
150,00 US$
Creating Impactful Ebooks
Our powerful ebook creation service offers you the opportunity to have high quality downloadable content relevant to your audience. At Cane Agency, we focus on creating ebooks that stand out in your industry and have a positive impact on your brand or business. With an expert writing and design team, we are committed to transforming your ideas into a professional and engaging ebook.
Service features:
Persuasive and Relevant Content: Our specialized writers will be in charge of creating persuasive, relevant and well-structured content that highlights the most important aspects of your topic.

Personalized and Attractive Design: We will make sure that the design of the ebook is in accordance with the identity of your brand, using attractive graphics, images and outlines to enrich the reading experience.

Optimal Length: Ebooks will have an ideal length of between 25 and 30 pages, allowing you to delve into the content without being overwhelming for readers.

Professional Format: We deliver the ebook in PDF format ready to download and print, which facilitates its distribution and access for your audience.

Proofreading and Editing: We conduct extensive proofreading to ensure content is free of errors and of the highest quality.
Price and Delivery Time:
The powerful ebook creation service is priced at $150. Lead time is 5 working days from confirmation of project details and payment.
Service Benefits:
Positioning as an Expert: A well-crafted ebook will help you position yourself as an expert in your field and increase the trust of your audience.
Lead Generation: Ebooks can be used as a powerful tool to capture leads and build a database of potential contacts.
Greater Engagement: Offering valuable and downloadable content will increase engagement with your audience and strengthen the relationship with your customers.
Marketing Strategy: Ebooks are part of an effective marketing strategy to drive traffic to your website and increase your visibility online.
Add To Cart